While heat pumps can offer an efficient, cost-effective method of warming and cooling your property, they're only convenient when working properly. The moment your heat pump starts to malfunction or stops working completely, you'll lose all of this convenience, and you could be left out in the cold. Keep control of the temperature in your home or office by calling on the heater repair pros at Jimmy Gusky Heating & Air LLC. Our heat pump/air conditioner technicians have what it takes to ensure that your heat pump problems are resolved right away. If you live in Silver Spring or the surrounding communities, contact us today to discuss your options for heat pump repair.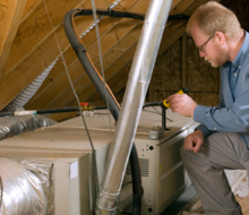 Heat pump repair is a difficult task, and restoring your heat pump to its former condition requires a great deal of skill and experience with solving heat pump problems. To ensure that your heat pump is repaired accurately and professionally, it's best to turn to the licensed, bonded, and insured heater repair technicians at Jimmy Gusky Heating & Air. Our heat pump service is some of the best in the business, and you can rely on our team to handle a wide range of heat pump issues, including:
Uneven temperatures
Cycling problems
Continuous blowing
Unusual or excessive noise
Insufficient heating or cooling
And other performance issues
When you hire Jimmy Gusky Heating & Air to provide you with heat pump/air conditioner repairs, you'll benefit from our comprehensive warranties. We're proud of the work we do for our customers, and you can look forward to getting a one-year labor warranty for major repairs or a 90-day labor warranty for minor repairs. With our assistance, effective climate control for your home or business will be in your hands once more in no time.
Heat Pump Installation
In addition to providing repairs for heat pumps, Jimmy Gusky Heating & Air also offers heat pump installation. Sometimes, even repairs from the most experienced professionals can't save a unit that's seen too much wear and tear. If you find yourself in this situation, or you simply want to upgrade to a more energy-efficient unit, our heat pump install team is here to meet your needs and provide you with flawless installation. We have 30 years of experience with heat pumps installation, and we'll use every bit of our expertise to ensure that you get top-notch installation service. To schedule heat pump installation or to learn more about our services, call or e-mail our heat pump install technicians in Silver Spring today!