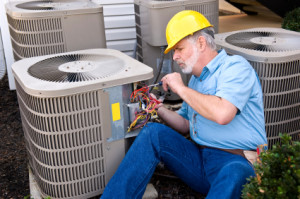 As a business owner or manager, one of your responsibilities is ensuring that your customers and employees are both safe and comfortable in your space. To ensure this, it's important to have properly functioning heating and cooling systems in your workplace. If you're in need of commercial HVAC repair or replacement for a malfunctioning unit, or if you require HVAC installation for a new model, you can count on the pros at Jimmy Gusky Heating & Air LLC. We provide professional HVAC service for business owners throughout Silver Spring and nearby communities, and it's our pleasure to serve you. Get in touch with us today to discuss your needs for HVAC services!
Fully functioning heating and cooling systems are essential to the success of any business. Whether you own a restaurant, a retail store, or an accounting firm, the comfort of your customers and employees has a big impact on how well your business does. With a broken air conditioner or a malfunctioning furnace, your customers and your employees will be uncomfortable at best, and your business is likely to suffer. That's why it's imperative that you hire a commercial HVAC contractor from Jimmy Gusky Heating & Air at the first sign that your system is faltering. Our HVAC services extend to a variety of different heating and cooling systems, including:
Air conditioners
Boilers
Heat pumps
Humidifiers
Furnaces
And more!
In addition to these services, our licensed, bonded, and insured technicians also offer gas piping installation, duct installation, and plumbing services. When you're looking for a full-service HVAC contractor to handle all of your HVAC needs, you don't have to look anywhere else. Jimmy Gusky Heating & Air is your best bet for quality HVAC repair and HVAC installation services. We're here to help your business succeed!
Commercial HVAC Contractor
The commercial HVAC contractors at Jimmy Gusky Heating & Air have the expertise and experience necessary to handle HVAC-related issues of all varieties. With 30 years of experience providing HVAC service for local business owners in and around Silver Spring, we've seen just about every HVAC issue out there. Whether you need HVAC repair service for a malfunctioning heat pump or commercial HVAC installation for a new air conditioner, you can rely on our team to provide you with lasting solutions to your HVAC problems. To ensure your peace of mind, we offer a one-year labor warranty for major repairs and installation services and a 90-day labor warranty for minor issues. When you need a commercial HVAC company to keep the heating and cooling systems in your business in top shape, Jimmy Gusky Heating & Air is here for you. To find out how you can benefit from our HVAC services, call or e-mail us right away!