If you're in need of gas line piping in Silver Spring or the nearby area, Jimmy Gusky Heating & Air LLC is here for you. Our expert technicians have 30 years of experience in the HVAC industry, and that means we can handle your needs for gas piping, no matter what they might be. Whether you need gas pipe installation for new construction or a gas pipe put in for a new appliance like a dryer or water heater, you can count on our team to offer you high-quality service. We install gas pipes for local home- and business owners throughout the area, so contact us today to get started with your project. Our pipe contractors are ready and waiting to serve you!
Installing gas piping in a home or commercial space requires a high level of expertise and experience. That's why it's a task best left to those who have hands-on experience with gas pipes and knowledge of all the required safety procedures. When you turn to the pipe contractors at Jimmy Gusky Heating & Air for gas piping installation, you'll benefit from all of the training and experience we have with installing gas lines. Our licensed, bonded, and insured gas line piping pros will make certain that your new pipes are installed with precision and care. We take pride in offering a high level of service, quality craftsmanship, and unparalleled customer service, so don't hesitate to turn to us for assistance with natural gas pipes. Whether you need pipes for a new water heater, oven, or stove, you can count on us to meet your needs. Our team will be happy to find a solution that works for you, and you can look forward to getting nothing short of the best possible results when you hire Jimmy Gusky Heating & Air.
Comprehensive Warranties for Gas Pipe Installation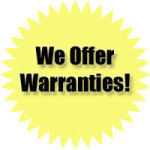 When installing a gas pipe in your home or commercial space, it's important for you to ensure that the job is done right. Otherwise, your building and its inhabitants could be in danger of personal injury. That's why it's imperative that you work with natural gas piping pros who will stand behind their work. As a family-owned company, Jimmy Gusky Heating & Air takes pride in what we do, and that means that we're willing to back up our work with comprehensive labor warranties. When you hire us to install natural gas pipes in your home or office, you'll benefit from our one-year labor warranty. When you want impeccable service and lasting results, there's no better place to turn for natural gas piping than Jimmy Gusky Heating & Air. Call or e-mail us today to get started on gas piping in Silver Spring!